NEXT
PREV
Zoom
Wealth of Knowledge Mighty Wallet
BE ORIGINAL
Buying direct ensures you get an authentic Mighty Wallet - we cannot service customers who buy from unauthorized sources.
OUT OF STOCK until Friday 08/28/2020*
*Orders placed before will be shipped on the following Monday.
Full of great information and conversions the Wealth of Knowledge Mighty Wallet is not only fun it's very functional.
Mighty Wallet® is the original, invented in 2005, that launched a global trend of 
wallet designs 
made with Tyvek®
. Be Original, Be Creative, BE MIGHTY!
Tyvek® is made with thousands of interlocking plastic fibers that creates a thin material that is tear-resistant, water-resistant and recyclable. 
Made from a single sheet of Tyvek®, the mighty wallet is a slim, folded, eco-friendly, and vegan wallet alternative to old-fashioned bulky wallets. The mighty wallet® has no animal byproducts is a long-lasting sustainable choice that is great looking too.
Specs
+ 2 large pockets for cash and receipts. 
+ 2 credit card pockets that expand to hold lots of cards. 
+ 2 quick access business card pockets.
+ open - 8 w x 3.25 h x .125 d (holds international currencies)
+ 0.600 oz (weights less than 4 credit cards)
More from this collection
Customer Reviews
Write a Review
Ask a Question
10/02/2020
Diane Z.
United States
Love This
This is the third Wealth of Knowledge wallet either given to or bought for my husband. He loves the wallet so much that his last one was in tatters. He refused to part with it. Luckily, my daughter remembered the Mighty wallet name as she had bought him the first two. Great product!
09/21/2020
Zackery R.
Canada
It's too perfect!
This is the perfect wallet for me! I was looking for a semi thin bifold wallet that was actually useful. Lo and behold this amazing useful wallet. My only issue is that it blends in with my notes sometimes and is hard to find but that might be good so people don't take it! 10/10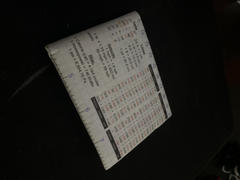 HA! That's actually something that can pay off in the future, I've had MANY stories of customers who lost their wallets only to come back hours or days later to find their wallets still filled with cash just sitting in the street or in a coffee shop because people just thought it was a piece of paper! Enjoy a long Mighty life with your Wealth of Knowledge.
08/20/2020
Aldwin R.
United States
Love them
I love these wallets so much. They are comfortable to wear all day because they expand and retract I can just pull anything I don't need out if I want a smaller form factor. I am pretty rough on mine so they only last about year or so but I prefer them to anything else I have ever used.
07/19/2020
Elisa A.
United States
Great gifts!
My husband loves his subway map wallet; lightweight and holds everything he needs. I love that you can create your own graphics to customize them.
06/27/2020
Jennifer B.
United States
Best wallets ever
Always a great experience- these wallets are useful, funny, and always provide opportunities to talk about the product. I Just love it!