NEXT
PREV
Zoom
mini Mighty - Notebook Paper
BE ORIGINAL
Buying direct ensures you get an authentic Mighty Wallet - we cannot service customers who buy from unauthorized sources.
Lighter than 2 credit cards and constructed from a single sheet of Tyvek® eliminating stitching and allowing the wallet to adapt to hold more as you fill it.
An ultra slim minimalist front pocket wallet that still has lots of functionality with a total of 8 pockets to hold credit cards, ID and cash.
Each mini Mighty Wallet™ is long lasting, water & stain resistant.
Size (closed) : 2.75" w x 3.5" h 
(slightly taller than a folded dollar bill)
Weight : 0.265 oz 
(less than 2 credit cards)
Thickness : 1/8th inch
(freaking thin)
More from this collection
Customer Reviews
Write a Review
Ask a Question
11/13/2020
stefan v.
Croatia
order failure
I never received my order.
Stefan - you are the reason why we can't have nice things. You chose the "Economic Letter shipping service" that had risks, limitations and warnings that you consented to. I also updated you along the tracking of the letter but also told you that there was NO gurantee that Croatia would continue to track the item once it had left the USA. As the letter has not been returned to me there is nothing I can do at this point. I take serious offense at you marking my products and service at 1 star as no fault of my own and have banned you from my site for all future orders.
11/07/2020
Christina H.
United States
Best Wallet Ever!!
I love the material it feels soft and not at all like paper...I bought two one for myself and one for my sister. We love them is probably an understatement, it is hard to find a wallet slim enough to fit into the front pocket of women's pants and not look funny. You can do that with this product. So great on many levels. You will not be disappointed. I will buy again and again.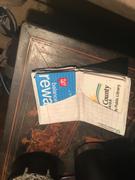 KN
10/02/2020
Kevin N.
United States
My Favorite Wallet!
This is my SECOND Mighty Wallet. The first lasted three years of daily use (and I'll admit it, overstuffing) before it started coming apart--and only at the tabs. The material remained intact. This time I went with this smaller version and I like it even more! It helps me be more mindful about what I'm carrying to keep it slim. And it is so slim, light, and compact that I wonder why I ever carried anything else! I'm sure I'll be buying another one in 2 or 3 years. The advantages over a thick, heavy wallet are worth the inexpensive replacement cost. In fact, I probably replaced leather wallets at near the same rate and at higher cost. And who knows? This one may last me even longer!
Hey Kevin, I'm SO glad you like the mini Mighty! It was a design from 2012 that didn't get a lot of traction at the time but now is very popular. The notebook paper one you picked is an instant classic with a stealthy look too! Thanks for your continued support! Terrence
02/05/2020
Fabian B.
Germany
Wallet is AWESOME, shipping too slow
The item is exactly as expected. the size is perfect and I like it a lot! Size is perfect for my pocket. Ordered from the US because the mini wallet isn't being sold in europe. took almost two months to get to europe though...
Hi Fabian, Thanks for the great review. Unfortunately yes the global delays in postal delivery due to the Pandemic have created issues for many customers abroad. Hopefully things will be more consistent now going forward.
01/30/2020
Mariana H.
United States
My favorite wallet
I was so happy to see these back in stock, I bought 2!! This is my favorite wallet hands down, everything I carry fits and it is tiny enough to fit in any purse or pocket. It also lasts and lasts. PLUS I get so many compliments on it! Highly recommend.